Music
Rock-N-Roll Yearbook
One of the most exciting – and anxious – times in a young person's life is the start of the school year. This fall, The Bazillions provide young students with a soundtrack to carry them through the school year: Rock-n-Roll Yearbook, available now!
Track Listing:
1. Back At School
2. Take Turns
3. New Pair Of Shoes
4. You Could Be The One
5. That's My Style
6. Just Another Monday
7. Who What When Where Why
8. Queen Ellen Of The Spelling Bee
9. Wide Open World Of Adjectives
10. More To Be Done
11. Keep Your Identity Safe
12. Summer's Here
---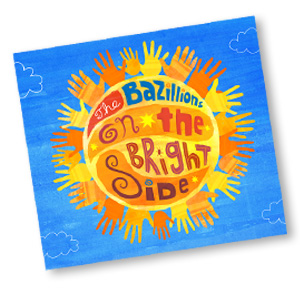 On The Bright Side
Our third release defines the word "bright" on multiple levels, ranging from wacky and hopeful songs describing the life of an elementary school age child to songs that explore the intricacies of grammar. Now dive in, dance along and have some fun!
Track Listing:
1. Superhero Rock Band
2. Family Tree
3. Use a Contraction
4. Ed (Been There, Done That)
5. My Teacher's an Alien
6. Personification
7. Water Cycle | Video
8. Outside
9. Q and U | Video
10. Bad Haircut
11. Favorite Book
12. Sons and Daughters
---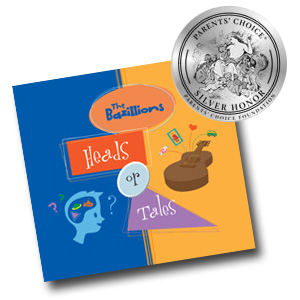 Heads or Tales
It's here! The Bazillions are back with Heads or Tales, the rockin' followup to their critically-acclaimed debut. Heads or Tales features a tasty mix of educational tunes and slice-of-life songs that are sure to get parents and kids singing along. Raise your hands and dance like a scalene triangle!
2013 Parents' Choice Silver Award winner!
As reviewed on ZOOGLOBBLE.COM!
Track Listing:
1. We're The Bazillions
2. Candy Garden
3. Silent e | Lyrics
4. Out of The Box
5. Similes and Metaphors | Lyrics
6. You're Embarrassing Me
7. Triangular Triangles
8. Front Seat
9. Prefix or Suffix
10. Perimeter Around The Area
11. No Homework
12. Rainy Day Clubhouse
---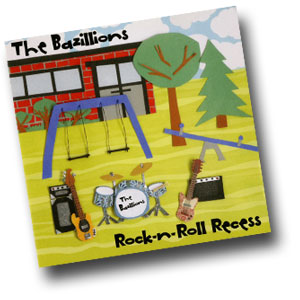 Rock-n-Roll Recess
The instantly accessible Rock-n-Roll Recess features dangerously catchy tunes about macaroni and cheese, a messy room, accidentally breaking the neighbor's window and other events in the daily life of a kid. And while written with kids in mind, the songs can be enjoyed by everyone.
As reviewed on WIRED.COM!
Track Listing:
1. Good Morning
2. Super Sonic Rocket Bike – Video
3. Counting On A Friend – Video
4. Tommy Got In Trouble – Video
5. Mac -n- Cheese
6. Career Day – Video
7. Preposition – Video | Lyrics
8. It's A Mess
9. Lookout Man
10. Goodbye
11. Super Sonic Rocket Bike (No Vocals)
12. Tommy Got In Trouble (No Vocals)
This album is sold out! Follow us on social media for any updates.