ON THE BRIGHT SIDE coming July17!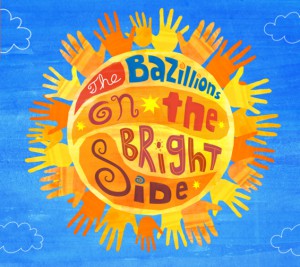 With tremendous excitement, the award winning Minneapolis-based kindie band The Bazillions looks ahead to the July 17th release of their third album of upbeat, jangly pop tunes infused with brainy lyrics, clear learning goals, and catchy energy, On The Bright Side
On The Bright Side defines the word "bright" on multiple levels, ranging from wacky and hopeful songs describing the life of an elementary school age child to songs that explore the intricacies of grammar. Moving adroitly from topics like what superheroes do in their spare time to the "best friend" letters Q and U, The Bazillions show influences from The Beatles, The Hollies, Big Star, Fleetwood Mac, and other masters of the world of pop music. Their songs are essentially story-based.  Even the "educational" songs succeed in presenting narratives and painting pictures for listeners to visualize as they hum along.
Get your copy today at any Bazillions live show, or pick up a copy online and in stores July 17th!