Books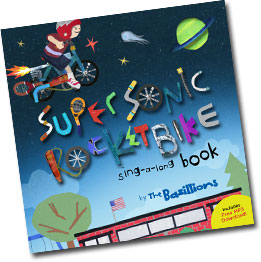 Super Sonic Rocket Bike
Sing-a-long Book
Blast off on a journey of the imagination aboard your very own SUPER SONIC ROCKET BIKE! Sing along with THE BAZILLIONS as you explore the world, the planets, and beyond!
Includes:
• fully illustrated lyrics
• guitar chords
• facts about the world, planets, and rockets
• PASSWORD for free MP3 download of the song!
Also available on amazon.com
and at Creative Kidstuff!
Click on an image for a larger view